Description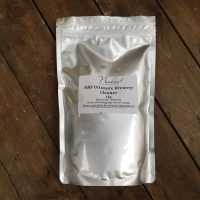 Available in 500g – 1Kg – 1.5Kg
This is the ultimate all round brewery cleaner that is suitable for use all on all surfaces, we ship this all the way from the US to give you a chemical that offers a Professional Brewery Wash at a great price.
Highly effective alkaline cleaner for all surfaces including rubber, silicone plastic and metals.
Contains Sodium Metasilicate and Sodium Percarbonate
HEALTH HAZARD DATA
EYE CONTACT : Irritant, prolonged contact may damage eye.
SKIN CONTACT: Irritant, prolonged contact will cause redness and blistering.
INGESTION: May cause nausea, vomiting, abdominal pain.
INHALATION: May irritate the nose and throat and cause coughing and chest discomfort.
EYE CONTACT : Flush with cold water for at least 15 Minutes. Get medical attention
SKIN CONTACT: Flush with cold water.
INHALATION : Get person into fresh air. If burning and irritation continues seek medical help
INGESTION : Do not induce vomiting, give water or milk, call medical assistance immediately
Instructions for use:-
For heavy soiling use 21g per litre for lighter cleaning duties use 7-14g per litre
Effective at any temperature
Especially good in hard water areas where pure sodium per carbonate leaves bloom
Do not use on teflon, leaves black marks on wood work tops
Mix product in warm water, scrub or soak for 30 minutes. Always rinse with water after use.
Close packaging completely, store in dry conditions at room temperature.