Description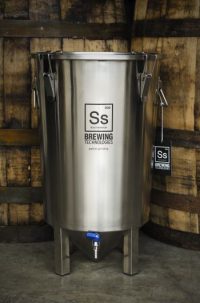 This is a truly innovative product, made from food grade 304 stainless steel. What really sets the Brew Bucket apart from other fermenters are features such as stacking during ferment or the included rotatable racking arm and ball valve assembly. With it's conical base it allows the trub to settle out in a more concentrated space, minimising the surface area that is in contact with your beer.
Read more about the SS BrewTech Brew Bucket here
See a YouTube review of the BrewBucket part one here part two here
26.3 litre capacity
Stackable during ferment, nestable during storage
Carry handles on both sides, carry when full
17mm hole in lid for airlock, stopper included
Food grade silicone gasket
Included 3/8 ball valve with hosebarb
Rotatable racking arm
Etched, not painted US gallon and litre markings on the inside.
See cleaning and care instructions here