3 VESSEL 15 GAL ELECTRIC BREWERY BUILD
There have been many single vessel, BIAB style systems developed over the last few years, I believe the first was Speidels Braumeister quickly follow by what must be the most popular Grainfather. These systems vary in user input from very little such as Brewie to hands on with the Brewtools B40, we actually have one of these for in house testing at the moment, more on that later. So the market for single vessel brewing is quite well served and the market for them is growing. However, we are getting increasing interest for what I would call "traditional Breweries", utilising 3 vessels consisting of a HLT ( hot liquor tun ) mash tun and boil kettle. These are full hands on brewing arrangements that require a level of skill from the operator and can be somewhat more rewarding to brew on. That is an argument that could run and run, after all, we are aiming to produce good quality wort, how that is achieved is very much up to the individual.
With the above in mind we set out to design a three vessel system that can be purchased with one click. We have used the very best from TMM equipment inventory including items from Ss Brewtech and Blichmann Engineering™. Behold the shininess;)
Working very closely with Swiftbrew has allowed us to incorporate precise control over both the 3kw element used in the HLT and the 6kw element used in the boil kettle. Using the 6kw element was a tricky decision as means users will need an amount of electrical instillation in their brewing area. We feel that it is important enough to justify the expense as the time saving and control it gives over the 3kw element colossal. It also has three power outputs, two of which are utilised for the Riptide™ pumps.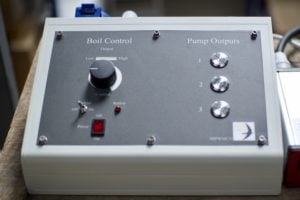 For customers who wish to buy tranches rather that the complete system we have compiled a complete parts list with links below:-
3kw Element Requires a 60mm hole to fit
6kw Element and pump Controller 
6kw Element Requires a 60mm hole to fit
Whirlpool kit x 3 We include a whirlpool return in the HLT to keep the liquor moving within, this keeps the temperature even and gives an accurate temperature reading. A valve will be required for each.
Silicone Tubing x 10m
Camlock Type A x 6
Camlock Type C x 9
In the pipeline we have a 10 and 20 gal version as well as a gas system so look out for build spec blog posts. We have the brewery up and running here at TMM HQ so anybody can come and check it out, also we will FB and tweet when we are brewing on it if you would like to see it in action.